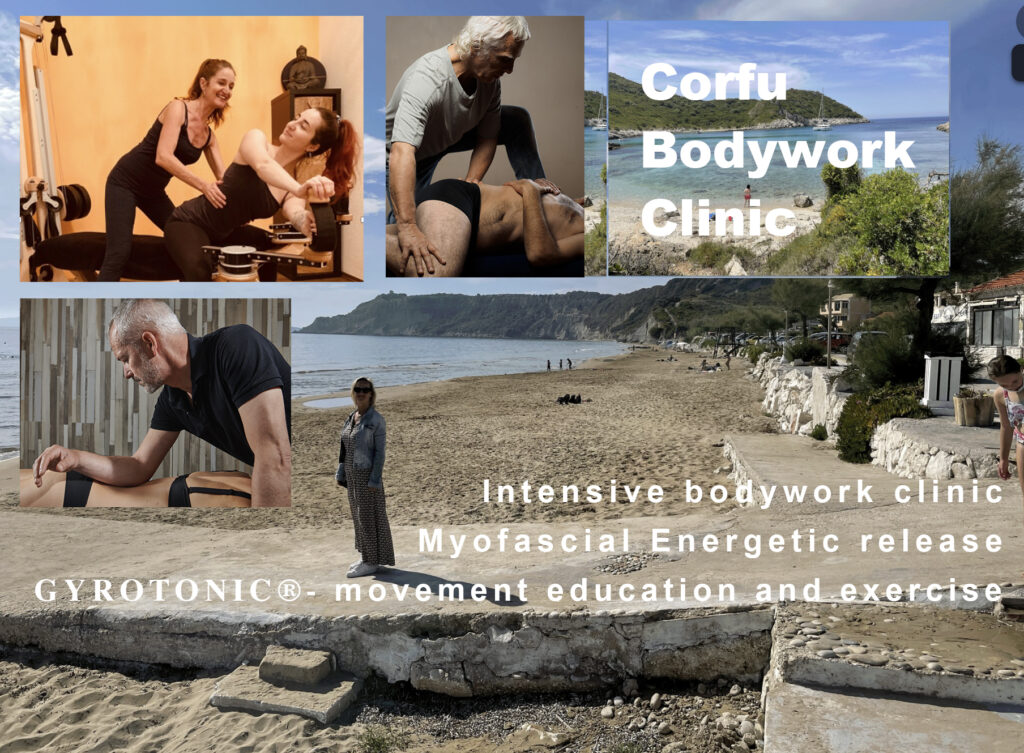 At Irene Villas, 300 meters from the beach in Arilles
"The place where the sun comes first and leaves last."
Master  integrative bodyworkers  Satyarthi Peloquin, Roland Engelbracht and Subhi Mair will customize an "As many days as needed'" program for you to liberate and integrate deep chronic pain patterns in your body, heart and mind. You will also  learn how to consciously repattern your body's structural changes to move with balanced  self-assurance in daily life. MER and Gyrokinesis  are complimentary modalities that quickly and efficiently restore your body's fluid, mobile Nature. 
Arilles, invites personal transformation with its crystal clear sea waters, golden sand beaches, electric sunsets,  hiking/biking paths and diverse opportunities for personal growth: Yoga, ecstatic dance, mantra singing, meditation and storytelling.
Bring your back, hip, shoulder, knee, foot, and pain in the neck, as well as scoliosis, posture imbalances, stiff body, lack of vitality and overstressed Self to MER Treatment Centre Corfu.
Soar home with refreshed wings of Joy!
YOUR FACILITATORS
Satyarthi Peloquin: Originator of Myofascial Energetic Release Trainings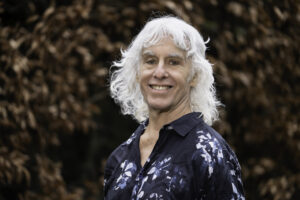 For 5 decades Satyarthi Peloquin continues to follow his curiosity, passion and integrity to emerge as one of the most masterful bodyworkers in the world. Satyarthi has trained over 10,000 people to thrive as bodywork professionals and teachers. In receiving body work to alleviate his own chronic pain as a professional dancer,  Satyarthi discovered his True calling: To engage  the multi-dimensional aspects of chronic and acute  physical pain by focusing on the root cause: Spasms in the soft-tissue-The Fascia.  "Honoring your personal needs returns you to your Life Force".  
ROLAND ENGELBRACHT   MER Trainer & Practitioner      Amsterdam & Corfu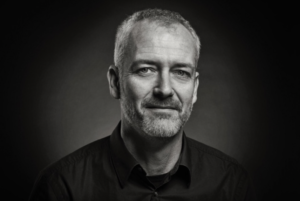 An astrologer told Roland:  "Your purpose is to work with your hands." Feeling this truth, he  commenced to train in  Rebalancing with one of the  co-creators, Satyarthi Peloquin. In Satyarthi, Roland found a bodywork soul Brother. They engage in weekly dialogs, and from these communions arose the benefits of  conscious breathing for the receiver to become the 'Pro-Active Participant' in a MER session. This radical shift  inspired the creation of MER module #7:  Healing Trauma.  Roland is  deeply devoted to discover how to create long-lasting, embodied results with MER.
SUBHI K. MAIR   Gyrotonic & Gyrokinesis Trainer     Diploma Sport Teacher Dancer Meditation Leader,   Performance Artist & Coach  Cologne, Germany & Corfu, Greece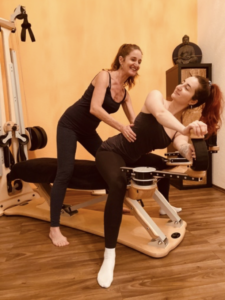 "Children, sitting on the ground, are deeply connected  in their pelvis, giving their upper body freedom to move and play in all directions. As we mature, our bodies loose this grounded fluidity. In the Gyrotonic Method I found exactly what I needed to consciously connect with and strengthen my core muscles, feel grounded, and restore mobility in my pelvis, hips and spine. The Gyrotonic Method nurtures the sacrum to remain free and stable and the spine upright and flexible giving you freedom to play in all directions in daily life."  The Gyrotonic pully  tower supports you to consciously learn how to move with your breath,  from your core, in 3 dimensions to restore freedom of movement.
To request consultation and session dates:
corfu@myofascialenergeticrelease.eu
Availability:
Roland:
June 3-8
July 23-31
August 1-4
September 20-27
October 17-24
Satyarthi:
May 20 – 26
June 5 – 27
July 10 – 20
August 1 – 12
August 28 – Sept 21
October 3 – 10
All the time 1 Gyrotonic teacher will be there